"Strong,beauty,and full of grace,I've goes those three in my place. Akimoto Sayaka the 15th here!""-Her introduction
𝐙𝐨𝐞𝐲 𝐁𝐫𝐢𝐠𝐡𝐭 (ゾーイ・ブライト) was a member of AKB0048 and the captain of Team K. Graduated on 01. 11. SC0127 to focus on her solo career.
Appearance
Zoey has Reddish-brownish color hair. Her natural color eyes are blue. Her height is 5'6(167.64). Her most known style is having her hair in a ponytail. When let loose her hair is long and straight. As a member of AKB0048, she has a heart on her hair and one on both of her eyes. She has five slash shooting lines on her meaning she'll have a story to tell or a success in life. Her body figure is described as a triangle shape figure. Her nose shape is Low nose bridge. Her chin is more of a narrow form. Her known style in outfits would be Girl Crush mixed with rebel girl and bold during her time in Aquastar. She usually wears short clothing as the climate would be above 80 degrees back home.
Audition
At the beginning of her audition(ie: before the DES battle). Zoey worn a simple black top and blue jeans.Her clothing was randomly selected as she was in a hurry. She had her hair tied up into a ponytail.She still has the yellow-red heart necklace that was given to her by her mother,before she left. She(Zoey) calls it a "Lucky necklace",because it gave her luck in order to pass the 151st Generation's second round audition and even be in Kami7 in 561st Single Senbatsu Sousenkyo as she ranked 5th.
SC0125
The day she turned 18 years old,she immediately dyed her hair silver.She felted weirded out.but then she grew accustom to her hair color.She loves it.Two weeks later she began to start wearing makeup ( help from Asuka ) she felt that she was transforming into a new person.Though she also feels like she still herself.Her closet started having more outfits that she feels like it's more suitable for herself ( Mostly things that are: KYE,Adidas ,Chanel, grunge ) though at times when she's to lazy she would wear normal plain clothes.Though her fashion sense continues to grow as she learns from her fellow 00 members ,but her outfit and style do not define who she is in the world .
SC0126
Once again, (June 16th) Zoey decided it was time to change her hairstyle. Her hair length had been bothering her for quite some time now.She said that it is time to change something new about herself .Though she will continue having her image style.She have her normal hair color again. After leaving the hair salon,she posted her new style on Instagram revealing it to be a chin length she commented on her post "Surprised..? Chop-chop. I LOVE my haircut! Do you.? Hope you do because I'm so obsessed. Major hairstyle transformation for Banana-san Duuuude" . Fans are also very obsessed with Zoey's her hairstyle declaring that she looks more mature with this transformation than her old styles.She's also been noticed of her wearing earrings and light red lipstick on the photo.Will this be a one time deal ?
After a week or two. Zoey also started wearing some mature clothing, quite professional actually. She felt quite comfortable in them. Was she maturing and acting her age or was she sick of wearing the same old style that she always wore before ?
Image
Before turning 18, she was giving young innocent energetic girl vibes,but she quickly disliked it and decided to be her true self.
Zoey is very different when it comes to her onstage persona. Offstage, she's a silly girl while childish acts. When Sayaka on stage, she gives off a spunky swag coolness vibe and fierce bad girl to her fans and the media. At times she radiates Girl Crush mixed with the dancing queen when on stage as that is her central concept. She loves being the girl who she is and likes that the fan appreciate who she is
Personality
SC0115
Zoey was very much a bully when she was young. She loved to torment people or even fight them. She was the kind of girl who would fight for no one reason while acting aggressively. She was somewhat of Tsundere
SC0117
After she met with this girl name Ayaka. She was very calm and more kind with the help of this girl.She learned at this point that it's better to use her fighting skills for good not evil.She finally understood that it's better to protect people and help them rather than torment everyone just for fun.
Joining 00
Zoey is mostly weird,an extrovert, she hates being cute,but when it's necessary she has no choice. She likes to have fun,but when it's important she likes to be serious ( Motomiya Hikari level).
Zoey seems like the type that is tough, brave and that easygoing. She has strong leadership that she holds, she can also be a trustworthy girl. To keep many secrets from any member about anything ( Sasshi)except when it's about shows then there is a problem.During the battles against the D.E.S, she shows her warrior's spirit against the D.E.S and never gives up against any struggle.She believes that every member must be at a good physical shape and would sometimes force members to do exercise with her even if they don't want too and that they must eat healthy to keep their energy high. She would sometimes be stubborn when she's angry and hard to get through to her at times. She would always want to help any member that would need her, if things are down in the dumps she would forget about the issue and smile.
SC0125
As Zoey continues to grow into thehuman being that she wants to be, she realizes that " Idols" have a certain standard in the Galaxy as being " Girly" and "Cute". She wants to change the term "idol " from "Cuteness and girly or sweetness and innocence " to being just a role-model to the young public view.
Aside from that, Zoey's life becomes stressful at the time though it's worth it to accomplish something that she loves. During on-stage performances, she loves to feel the energy of excitement and passion from the fans ( the chants, the screams of happiness, the glory).
It was revealed that ( by members and Users ) that Zoey is mostly a weirdo, silly and very extroverted, most people don't understand the reason for her actions. Zoey is the kind of weird girl who you'll always be having fun and never get tired of it. Though she can be serious when it's her time to perform.
SC0126
After her time being in AKB. She realized that she needs to be more serious about what she does. Sure she can still waste time but when it's crucial to work such as AKB, or her stuff she doesn't have time to have a mistake. She likes to improve herself. When she's on stage, you can tell that's she's very serious due to her expressions on her face, but she likes to have fun.
She finally realized while having read her fathers note. That it's no use to hold grudges, because once you continue to have it. What's the point? Instead, focus on your future. Just make peace, even if you still hate them, because you may need to use them in the future.
Zoey loves to hug people now for some reason; she likes it though. It is said that she is super fun to be around with. Honestly, she thought of the opposite, but others people perceptions are different to her.
Zoey is very competitive when it comes to sports. She likes to win at all cost by playing fair and never cheat. She loves to taste sweet victory when she succeeds in sports hence why she's very athletic.
History
Before
Zoey Bright was born and raised in Downtown, Aquastar where things are hectic and where some say is concerning. Unlike now, Zoey was more rebellious and a bully when she was little. She loved to fight anyone who wanted to challenge her or just for fun. She was more of a "Gire." At the time, Zoey was about to fight this unknown girl just for the fun of it until she was challenged by her Senpai, Ayaka (who is her favorite now). Zoey believed that she was like any other girl who she fought with, weak, worthless, nothing, but Ayaka wasn't like any other. Zoey took the first strike thought it failed as Ayaka knocked her down in flats seconds. As she woke up, the school had ended, she was in the nurse's office. Ayaka was standing at the door. She and Ayaka continued having a conversation, in the end, Ayaka asked her if she would be changing her ways and chase the light rather than trailing in the darkness. This changed Zoey's life. She later joined a group(gang) that protects Down-Town as they want their city to be a safe environment. She also turned her passion for fighting to dancing
Encountering 00
When Zoey was about ten years old, her friends (girls) decided that they would want to have a slumber party since it would be their first together and they agreed. Zoey later arrived at her excellent friend Izzy. As they continue to have fun at the slumber party, they decided to watch some AKB0048 footage such as Guerrilla Live or 48/46 MV. Zoey at the time didn't know much about 00; she didn't understand why they were so popular(Yes, she didn't see that it made her planet change to entertainment zone). After the 10th video of the night she quickly understood why they were so great, she could feel the music, she could feel the beat and rhythm of the songs. Her destiny changed when she saw Ichikawa Miori the 9th on Guerrilla Live ( YouTube) performing "UZA." She quickly stands up and began dancing. This made her decide that she should take on the path of being an AKB member and audition whenever possible
Joining AKB0048
At the time, Zoey began looking on the 00 websites if there were any upcoming auditions. She had missed the 150th Generation, but now she was going to make sure that she wasn't going to lose the next one. When the 151st audition came around, Zoey quickly auditions (with her mother's permission) her audition song became Kamonegix (DanceMIX ver.). Weeks later she received information that she made it to the second round of the audition this, of course, occurred positive emotions in her. As she arrived at the terminal,she, of course, had gotten lost she was too close to losing her audition, but luckily she made it in the nick of time. As the training began, she later met Ashley Snow, Masuda Akari. At first, the two ( her and Akari) were not on good terms. Then she had met Kashita Miyagi and Miyabi Honoka at the cafeteria. Later on, she had passed the auditions along with the girls she had met when Zoey was about ten years old, her friends (girls) decided that they would want to have a slumber party since it would be their first together and they agreed. Zoey later arrived at her excellent friend Izzy. As they continue to have fun at the slumber party, they decided to watch some AKB0048 footage such as Guerrilla Live or 48/46 MV. Zoey at the time didn't know much about 00; she didn't understand why they were so popular(Yes, she didn't see that it made her planet change to entertainment zone). After the 10th video of the night she quickly understood why they were so great, she could feel the music, she could feel the beat and rhythm of the songs. Her destiny changed when she saw Ichikawa Miori the 9th on Guerrilla Live ( YouTube) performing "UZA." She quickly stands up and began dancing. This made her decide that she should take on the path of being an AKB member and audition whenever possible
==
Succession == During a AKBingo00! Episode recording,Zoey suddenly came down with a fever and collapsed on the floor. Her fever lasted the whole weekend slowly recovering from the "illness". During a concert an announcement suddenly popped up on screen that Zoey Bright will having a succession concert on the following selected day. It was later revealed that Zoey would take on the name of "Akimoto Sayaka". She is the 15th person to take over the name and continue the original member's legacy.
She was the first person in her generation to succeed and the second person to succeed in the new era along side with Shinoda Mariko the 12th . Though the difference between them was Zoey continued getting better and earning more fans, while Mariko just stayed in the back. She felt quite sad that Mariko wasn't doing her best in 00. Later enough more 00 members succeeded including her generation members Ashley and Akari .
School Graduation
Zoey officially graduated from Infinity Academy on May of SC0125. After a month, she continued focusing on her music career both solo and AKB, but at the same, she is focusing on being a lyricist not for her to write her lyrics, but selling them as demos. She decided that it be best to go to college when she reaches 22.
She continues to be more active in the Entertainment world now that she has finished school. She decided that she'd want to do something in business as she's been inspired by Ms.Motomiya. She might want to take the opportunity as for being managing in something. She also decided by her free time to write some lyrics, not for herself, but the company or to sell it. There are so many possibilities for Zoey to go to. Exciting and nerve-wracking.
Akibastar Grand Hotel
She was left to die there as her fellow members didn't help her. Seeing as how they didn't. She'll be acting the same or be petty when the time comes. Luckily, she was able to breathe. When she was close to the light, it wasn't her time.
🚗~Moving out
On June 1st, SC0126, Zoey officially moved out of AKB0048's dormitory. Given permission by her mother and even the management(and paperwork showing she's able to pay rent). She is gotten the help from Harrupi,as of course, she's a landlord back at Maiamistar. The kind of apartment that she wanted and is now living is a Classic Six apartment, which Zoey finds it kind of fitting. She can now relax in peace when she comes home. The most that she loves about the building is when she wakes up she can see the sunrise and even sunset and moon every time. She also likes that it already has some appliances installed such as Side-by-side Fridge and Oven above is a microwave, The complex building had tight security good for her benefits in case any fans(who don't respect boundaries) try to enter, they would in a photo ID/key card. Her floor is at the top of the building, how to arrive is, of course, an elevator. She loves her apartment. It's 1 hour away from the dormitory. Having her apartment now, she likes it to be clean when arriving home. She was left to die there as her fellow members didn't help her. Seeing as how they didn't. She'll be acting the same or be petty when the time comes. Luckily, she was able to breathe. When she was close to the light, it wasn't her time.
Car
Zoey, of course has her drivers licence.She drives a Toyota,Compact car.
20G Project
Zoey is very happy about her upcoming 20G Project.She hopes she can get something good about the show such as experience from the show or her own destiny.She was very surprised that they gave her a show and agreed about 00 management as well.She is very curious about the contestants who will be participating on the show.
Team shuffle
It happened at New Tokyo Dome where Hikari the current Manger and Producer of AKB0048 decided that Takahashi Minami the 7th would be current captain of Team A ;and Meada Atsuko the 19th would be current Co- Captain of Team A , Hikari also decided that Akimoto Sayaka ( Zoey Bright ) would be Team Captain of Team K like the original Akimoto Sayaka ( her anime/Manga version) and the Co-captain Masuda Akari and the Ace Miyabi Honoka.
SC0125
Zoey has released her second single, Love&Life on SC0125.02.17 It was a hit comparing to how high it was on chart (TOP 20). She did better than she did last year in Single Senbatsu Sousenkyo rank,she reached rank #9 last year she was ranked 18th. She knew that she could do better,but she wondered why she was ranked low with the other girls especially with Matsui Rena the 9th. She speech was mostly her being disappointed the fans and asking the for forgiveness,but on the other hand she was happy that she improved better from her last years rank.She believes that next year will be better for her.She was also deeply happy that she could be in the A-side single,Asphodel no Sekai
In the Single Jyanken Taikai,she was placed 5th.She lost to Shimazaki Haruka the 11th,who later was placed in 2nd. The Single Jyanken Taikai winner became Asami Mirai. Zoey was very proud with the kouhai for her success and even more that she is a BANANA Army. The Jyanken Taikai single was announced to be Castle of Glass. Before, her best friend,Matsui Rena the 9th announced that she will be graduating from AKB0048. Like anyone she was very sad enough that she(Ashy) had to leave so soon,but they continue to keep in touch such as video chatting or texting.
Her fellow member and close friend from 151st Generation,Akari.had succeeded Techi. Zoey was deeply happy that another person from her generation had succeeded never of less someone high from another another group,Keyakizaka46. Later on 00 went on tour.There final stop was at Koreastar with her and her fellow members having a reunion with Ashley Snow once more. She then later met Barahona Ryuu again. Before they had met in the beginning of October at school.She loved Koreastar for it's culture.She was quickly inspired by there culture to write some lyrics even though she can never have it on her single.
SC0126
On the month of May. Zoey had received information that her single "ILLUSION"English Version was nominated for a Grammy Award. She was incredibly shocked that her own single was nominated for something like that. At the end May she went to the award show. She felt like everything was a dream that she wasn't even there. She pinched herself and finally knew that everything wasn't a dream,yet it was reality. Everyone recognized her since she is a AKB0048 member the most popular group across the galaxy. She sat down and met talked other artist most of them were nice to her. When she category was called "Best Pop Solo Performance". She felt honestly emotional and happy about being here thinking back how she started it all.Suddenly her face with five other people were up on the screen and she was honestly about to cry with joy,but she wasn't picked the winner. She was still happy that her single was picked and nominated for it.So many great things have happen to her this year.She was even picked for Vogue 75 questions .It was the first time that her apartment was shown to the world everyone who was it realy enjoyed and was shocked that it was so clean and beautiful. The rest of her 18 her old life appeared in many ads. Honestly happy that she was getting so much work.
Two new member joined 154th generation,but they had there own group.154.5th Generation. Zoey had been working on a new single, which came out on March 26th,SC0126. ILLUSION was the best selling hit out of the last two singles. Zoey felt proud that their hard work had paid off.She wished she could the the lyricist who wrote her songs.During the Janken Taikai, Zoey was placed 15th. She had worn a Banana suit just the original Akimoto Sayaka,though this wasn't intentional.
When the Senbatsu Sousenyko SC0126 came around. Zoey had her poster ready it was mostly dedicated to her BANANA ARMY When the pre-votes came around it was announced that was ranked 6th place. She honestly felt over whelmed on how far she had reached, she felt so happy for how much she improved in the last two ranks from before. Now she wants to go even higher in her ranking she know s that she could it if she believes and if the audience voted for her. She also had something prepared when summer came around. She was excited to share it to the world,but she couldn't say it yet.
When she had met Paruru's brother she had experienced her very first crush. She really didn't like it. Instead of talking to him. She avoided him by heading back to the fan and waited for the members. After the concert and before she realized that she can never fall in love as long as she's still under AKB0048. Besides that, she knew that she can only give love to her fans as they brought her to where she is now (famous). She was very glad that a kouhai named Murasaki Aoi has gotten the opportunity to share her voice as a solo artist she remember the first time she (Zoey) gotten her unexpected opportunity to become a solo artist. With that,doors were open to her and she was able to share her solo voice with the galaxy. She was and still is happy that she gotten the massive opportunity.
On her birthday. She decided to celebrate her birthday with her fans as that was her wish since last year. With that she was overjoyed. When she and the others girls went back to the AKB0048 dorms. Zoey had an unexpected visitor. It was her father. The first thing she decided to ignore him and pretend that he was just some random stranger, but that didn't stop him from continuing to talk to his daughter. Zoey had warned him to not touch her with his big hands. The third time she said that. That was her final warning. After that, she attacked her father and began punching and attacking as if she was a real gorilla. Her father wasn't alone when he came to visit his eldest daughter. Apparently, he had three more kids while he left his former family to rot and die from bankruptcy.Their names are Lucia, Rico, and Kara kids who were very young and under her age. Luckily the girls that were with Zoey called security to escort her father out of the premises though he wouldn't leave that easy. As her father left along with the three kids he brought. The members continued celebrating Zoey's birthday by giving her presents. Zoey had noticed a small present next to the big ones. She was very interested and asked a member if they could pass her the present and they did. Once she unwrapped it she noticed it was a music box. She asked the members if it was from anyone in the room which to none replied. She opens it and there was a note inside, it was her father who left her a present( Harrupi brought it in btw). She knew that she couldn't stay mad at her father for what he had done and she now knows that holding a grudge, even hatred, would never solve anything even something that came from the past. She saw a girl name Lucia outside and decided to have a chat with her. They got along. Zoey decided to take them home with her as they had nowhere to stay. They told Zoey that their father was taken to jail for trespassing on 00 property. The next day Zoey had to present to court on behave of her father. Their father was sentenced to 10 years to prison. Zoey had somewhat taken custody of taking care of the three kids while their father spent in jail. Zoey wonders to what was the whole reason behind him finally coming to Akibastar.
When Team Nerd auditions were being held. Zoey had no idea about the audition she thought it was something more important as in concerts, the Senbatsu Sousenyko, Handshake, anything related to AKB0048 really. Sasshi didn't let anyone leave the room during the auditions. Zoey believed that it was pointless to have the auditions as no one wanted to be in their " Team Nerd". Whatever that is. After Mayuyu auditioned for fun. Zoey grew interested and decided to audition as well, but she was turned down as a member because she was unqualified as a member.As she sat down next to Mayuyu they both plotted a scheme to make Sasshi training life more harder as revenge for turning both of them down they had fun plotting against her. After her audition,two new members entered the building a girl name LaLa Rue. Zoey was deeply surprised that they'd let more members into 154.5th Generation .Even without a proper audition like the rest of 154.5 members she without thought are they letting every girl enter the group without having an audition?On the other hand she was happy that they'd let new girls shine of stage and show who they are,so she was having mixed feeling about it. She than later greeted the two new girls the proper way. " Greeting " Sayaka bows properly to the new members " I'm Akimoto Sayaka the 15th,captain of Team K. Very nice to meet you two. Welcome to AKB0048 family ". Later that evening she leaves the dorms on her way back to the apartment she decides to chop of half of her hair mainly because it was getting to the point where it was annoying her when she performed on stage.After she got her hair she felt so much better.She hair didn't hit her at all. I mean it did,but not that much as it was before. She loved the big improvement.
During the Muchaburi Dodgeball. Zoey went on the white team. Her fellow team players were Paruru, Jurina, Zelda, Haruki,Rei,Miichan,Ririka,Aoi,and Hotaru. TShe stated that she loved playing sports even when playing dodgeball,because it get out her agressiveness out or what she calls it "She Hulk ".The game of Muchaburi Dodgeball began out soft. Zoey kept focus on the ball.Not trying to get hit from it. Everyone knew that she and Paruru are a massive threat to anyone's win as she (Zoey) was very athletic and strong while Paruru is great at aiming at her target.Though the first victim of the first round became Kaoru.Zoey laughed at Kaoru's about saying a next time,but there wouldn't be a next with her as Paruru threw the ball at her. Kaoru had contact with it. Later on more girls were out. At one point,it was Zoey's turn to throw the ball at the opposite player,MoYoung Marian. Marian did a death drop ( learned by Zoey of course),but when Marian she couldn't do it quickly. The foam ball landed on Marian's face. Marian was splattered qith a light boom, something colorful and sticky was shot out of small muzzles ahead of Marian, spraying her in the colors of the rainbow. Zoey laughed at the sight of Marian covered in rainbow,but what could she do? Not laugh at what happened. Later on she continued to focus on not getting hit by the opposite opponent,many members from the opposite team(even Miichan,) wanted out of even punished,but Zoey is skilled in dodging with the power of dancing and athleticism.
Senbatsu Sousenyko SC0126 . At the end of Zoey's speech, she announced that her single "Starry Sky" is finally out to the public. She was honestly excited that she could do another single this year because of ILLUSION selling some many CD and being downloaded online. She was very surprised that her single " ILLUSION " sold about 500 million CD and being downloaded as well. She honestly was so happy that her voice was heard by that many people. They(the fans or newcomers )made her feel very confident in what she does and what she wants to do in the future . She thanked the lyricist, S4, for writing all those lovely words and letting her collab with some of the people she most enjoyed seeing in her life. That's what made her even love more about being an artist and even an idol of herself. She finally realized more that one day she wants to write a single with her own words and not somebody else. She wants to express her voice with her own lyrics and her own thoughts. Later in two days, Starry Sky sold more again than her debut single and Love&Life, but no yet ILLUSION which she knows that it's the most popular song out of her singles that they(everyone who worked on the single) released. She announced her graduation.
On July 25th. Zoey decided that it would be time to get herself a pet,much more of the kids so they wouldn't feel lonely. She couldn't find any animals that would make her happy until she went to the animal dog shelter.Right there.She saw three animals that she quickly loved. The animals were happy that a girl like her took them home with a nice family. Zoey later named them Timmy,Apollo,and Ayala to Zoey's eyes they were part of the family. Timmy had gotten used to living in the apartment. She was deeply happy that there were no pet rule in her building unlike the 00 dorms.She likes how each of her animal friends have different kinds of traits what she even likes about even more is that they make the kids happy knowing they have someone to play with while Zoey is gone as Sayaka-san.
On December 1,SC0126. Sayaka teamed up with Kuumin and Griselda in forming an idol unit called " Poppy". The group is a dance unit as having Sayaka as the leader, Kuumin the face of the group, and Zelda the sub vocalist. Sayaka enjoyed the competition as she let out a little steam and saw the fans happy.
SC0127
Since the beginning of January 4th, she'l be on a 4 month hiatus from AKB0048 and her solo career,but besides that she'll be concentrating on her show "20G Project" .
Graduation
After Zoey graduated from AKB008, she took a month off from work to think over about her life. Once she got back into the job, she was only a solo artist. Her breath grew busy about one year old she ended her contract with her company to focus on her diploma. Zoey and the company ended in functional terms, they still communicate with each other.
Team history
151st generation → Promoted → Team 00 → Solo artist → Team K (captain)→ Graduated
Joining the 151st Generation (SC0123.03.15)
Promoted to Successor and left 151st Generation (SC0123.05.31)
Promoted to Team 00 (Formation) (SC0123.06.17)
Solo artist debut (SC0124. 07.1)
Transferred to Team K and Promoted to Team Captain (SC0124.10.31)
Skills
Having to be an idol for some year now. Sayaka's skills have grown tremendously. Before becoming an idol, Zoey used to do, but she still does boxing. Zoey is quite good at remembering the choreography, and an excellent dancer as she street dance since she was nine years old
Fighting
Her hand to hand combat are exceptionally well. She uses different kinds of fighting techniques (Karate, Martial arts, boxing). All very useful under DES attacks.
She's good using Micsabers, but not as high as some of the members. Though it's her second greatest strength
While being able to use the LAS; her fighting skills against the DES are excellent, but she still has a little bit of a hard time using the LAS. Zoey's known fighting style is boxing which she was taught when she was little
Languages
Zoey loves learning new languages especially when it helps spread her love in music and for the fans to understand what she is saying.
Indonesian (Mother tongue) .She's an expert in speaking Indonesian as it's the mother tongue of Aquastar meaning it's a necessary to learn this language. She mostly speaks this language to her mother or any relatives back at her home planet since it's native.
Japanese (Expert). As the galaxy speaks Japanese it's necessary to learn this language.She learned to speak this language when she was in First Grade.She uses this language every day since joining the 151st generation. She quite has a custom of speaking this language.
French ( Upper Intermediate).Zoey began learning this language when she was in secondary school,but after she joined 00. She stopped learning this language and began learning English. Until SC0126 started Zoey then wanted to continue to learn French another reason is so an upcoming song.
English (Expert). She learned to speak English when she was entered junior high,before going to AKB0048. She mostly uses this language when she's visiting English speaking planets,like that time she when to Applestar .
Korean (Beginner): After visiting Koreastar for a broadcast show .She decided it would be best to learn the language. She currently struggles the pronunciation and even writing.She decided to learn this language when she first visited Koreastar during SC0125 for a concert
Accents
Indonesia - She got rid of this accent when she was fully learning English.
Japanese - When she entered the 5th grade. She fully mastered the pronunciation. She founds very fluent
American - She has fully learned the English language. She's current learning to how to perfect the american accent
British - She has fully learned the English language. She's current learning to how to perfect her British Accent
Australian - She has fully learned the English language. Aside from British and English. Australian is the most difficult accent she wants to learn as their pronunciations are a tongue twister for her.
Instrument
Currently, she's learning to play the Guitar it becomes a struggle to her.
SC0126
She's getting better at learning the guitar,she's getting there. After several months of practicing, Zoey reached an average level and can play better. She deeply loves playing the guitar as she can use it to think of how she wants her melodies to be played
Zoey calls her guitar "Gara" (ガラ). The guitar's pronunciation is a he.
Singing
Vocal range: Light lyric mezzo soprano
Zoey's vocal skills are rather great when she sings her own way, people would describe it as something powerful. Before/first day of 00, her vocal rather needed some work.
Rapping
Zoey is considered an excellent in rapping.The first time she started rapping was at the age of 9.How she learned to rap was that she was taught by a teen, who she respects as her sensei. At first, it became a struggle for Zoey, but a year later she understood it.Today this day she's an excellent rapper and continuing to learn things from the rapping community.
SC0126
Zoey is able to rap even faster then she did years before with a technique she learned from other artists.She is even able to think quick when coming up with the next verse.
Dancing
She's a very talented dancer.
Dancing is her greatest strength in the entertainment world.She's able to dance ( hip-hop, popping ,street style , extreme vogue , Krumping,etc) she loves to learn new kinds of dance moves as to why she wants to build her own dancing academy .
SC0126
Zoey is able to be light on her fit with her dancing. She's even able to be more flexible as she received serious training which helped her greatly, but she still has a lot to learn to become an even better dancer improve her metabolism and increase the amount of calories she burns,because you're using many muscles to stay on the pole.
Pole Dancing
SC0126
Since the beginning of year. Zoey decided to take interest in pole dancing Without saying anything,she really enjoys taking poll dancing classes and she slowly finds it easier. She finds that taking pole dancing helps her
Acting
Her acting has improved quite a lot over the last two years of her being in AKB0048 though she's not better like Miyagi or anyone who focuses more on acting She will continue improving on her age until it is "perfect "
She hopes that she can be able to debut in American series. The kind of genre she like to be in : Police procedural ,Thriller, Crime Fiction, Drama, Comedy , Political drama , Superhero fiction , Legal drama ,Action Film ,and Science fiction film.
SC0126
Zoey continues to focus on her acting career, because she knows that she has potential though she's not the best like other members she puts her full efforts in the character whom she is playing Zoey continues to focus on her acting career, because she knows that she has potential though she's not the best like other members she puts her full efforts in the character whom she is playing. She has been in several shows, mostly small roles such as the victim of a crime, background character fans have spotted her in several series. If they ask her to be on a show for a small role. she quickly accepts the role without any hesitation. Every small role you are given or force yourself to take. You go higher up with experiences.
Cooking
Zoey's cooking is above average. She mostly follows the instructions from a cookbook. At times she does her own thing and makes things up, but they turned out well. Now that she lives alone in her apartment. Zoey makes her own food every day. She likes it when she cooks her own food knowing that she made it herself.
Etymology
Zoey in Katakana is written asゾーイ
The meaning of the name is in Greek is "Life". The name gives of a feminine vibe.
How other counties write it or say it
Zoe (AncientGreek), Zoja (Croatian), Zoë (Dutch), Zoé (French), Zoi (Greek), Zoé (Hungarian), Zoe (Italian), Zoja (Latvian), Zoja (Macedonian), Zoya (Russian), Zoja (Serbian), Zoya (Ukrainian)
Bright in Hiragana is written as ぶらいと
The meaning of the name is of course "luminously"
Before her succession,she was before called "ZoZo"(日本語) given by Miyabi Honoka. After succeed her successor, she was given the nicknames which her successor was called before such as Sayaka (さやか),Saaya (さぁや). Okaro(オカロ). She likes to call herself the Dancing Queen of 00(ダンスクイーンオブ00) as she the most known dancer of the idol group.
Her COM name when she's on her LAS is Gorilla (ゴリラ). Given by her members,reason for is unknown.
WOTAs' sometimes called her Okaro. Legend said it was because orginal Oshima Mai read the kanji of Akimoto Sayaka the 1st name as katakana.
She Hulk(彼女はハルク) is a given name by her form classmates. Reason to why she is given to this name is because get gets super aggressive and very competitive when she's playing sports.
Public Appearances
Witchblade :
Prince charming :
Hit the stage
Criminal Justice
Seven UP
20G Project- Coming SC0127

New To The City

Sugar, Spice, and everything "Nice"
<tabber>
The Purge:Planet takedown - SC0125. Japanese-American dystopian horror film .
<tabber>
Majisuka Gakuen 00 :Plays Choukoku who's in Team Infinity
Witchblade : Major character.She voice acts as Aiko;the older sister of Mimiko. Mimiko used the wield the Witchblade,but soon dies due to the witchblade destroying her body of over limit.In the upcoming season(2),Aiko wants revenge on Joe thinking that she's responsible for the death of her younger sister.This time Aiko wields the power of the witchblade. She then eventually dies as the Witchblade took over her and destroyed her body from the inside
Prince Charming : Minor character.She plays as the teen girl Merida.She permanently leaves the academy as her parent had to move to another planet.
The Purge:Planet takedown -Secondary character.She plays Kimiko Haruko.She is a Japanese high school girl before the purge she seems: upbeat, happy,and supporting person.During the purge,she's psycho, doesn't think about her consequences,she's free-spirited during the purge.She was assigned ( along with Minae ) to hunt down and eliminate Hatsune Minami,the president of the planet as she was to focus on taking the purge out of the system .Haruko eventually dies by falling off the building,and later a van hits her as she stands up hurt. She's friends with Minae
Protocol Magi :ORIGIN :Major character.She plays Aoyama Anna / Nimbus
Criminal Justice- Small cameo role. She played a character named Judy.Judy happened to escape her kidnapper just in time,but there were 10 others girl who couldn't make escape.One of them is her best friend name Sarah .She helped the cops to locate the others girls.
Seven Up- Background Character. You could see Zoey sitting with other people during episode 7. Cafeteria scene.
Emily's World- Minor character.
<tabber>
AKB0048 Singles
Entertainment Pro-Commercials
Solo Singles/Albums
AKB0048 shows
SC0123
SC0124
SC0125
SC0126
Quotes
"Sometimes you just need hard work to get things done"
"Strong,beauty,and full of grace,I've goes those three in my place. Akimoto Sayaka the 15th here!""- Her introduction
"Some people seem do not like me.They tend to think that I'm a little weird,but all of us have a unique beauty and personality that others do not have that we should embrace and spread."
You just left me to die back there! "

-Zoey telling everyone (Ghost RP)
Never wasted that is worth true talent when you see one

-Zoey on 20G Project
""If a man has not discovered something that he will die for, he isn't fit to live.""

- Zoey's favorite quote
""I mean. The galaxy is to beautiful to stay mad at someone or even be sad. When you could be enjoying lifes offer.(Sayaka's BDAY)
Relationships
Motomiya Hikari - AKB0048's manager and producer. AKB0048's producer and manager. Sayaka deeply admire Ms.Motomiya for everything she does,and how she built AKB0048 from the bottom to the top once more .She'd sometimes wish that she could take a break on in a while.(SC0126) Zoey wants to aim the same level as Hikari-san,even if it means lacking of sleep,she wants to have a great success with her own career.
Takahashi Minami the 7th - Senpai. As they're both captains,both of them understand how hard working it is to be a captain. Zoey 100% agrees Ai to be Takamina.They're both similar in her eyes. She wonder why Takamina has not released another solo single. She also sees Takamina being a manager,maybe Takamina and Sasshi would work together in the future.
Ikuta Erika the 11th - Kouhai. Sayaka calls Ikuta " Lyric" instead of her successor name due to Ikuta's love for music.
Minami Minegishi the 7th-Co-captain of Team A. Sayaka believed that they made a right choice in having Miichan the 7th be their co-captain.
Asahina Miru- Same Generation. She wished that Miru could be on stage with her and not behind stage along with the other girls.
MoYoung Marian - Kouhai.She's her co-dancer.When Marian need some assistance when Ayumi-san isn't around,she will help her in her dance practice since she still lacks in dancing . She likes that Marian wants to improve in her skills.
Yagami Kumi the 5th- Kouhai.She laughs when Kuumin takes control of her fellow member Karen at times when Karen takes it to far or doesn't listen to her own thought. Zoey felt so glad that a kouhai was given the opportunity as a solo artist.
Yurina Hirate the 7th - Same Generation.Their relationship grew better after two years. Sayaka now sees Tecchi as a friend. She doesn't see Tecchi as her rival. Tecchi is the co-captain of Team K
Sashihara Rino the 11th - Kouhai. Instead of calling her by her successor name,she calls her "Info-chan"(yes,from Yandere simulator). Considering how she wants to grab information about AKB or from members. She likes to harass her at times. She really likes to push Sasshi's limits during their training,because she knows that Sasshi can have the same potential as the original if she puts the work and force that the original had.She also believes that Sasshi can be a manager or even higher than that. She's curious to what she'll due after graduation. She finds her then most laziest person in 00 history. She's still questions how she managed to pass the second round of the auditions.
Hatsune Hikari- Kouhai.Fellow K member. Zoey believes/knows that Hikarin has potential to be something great.She knows that she needs to stay positive and work hard for her goals.
Honda Hibiki- Kouhai..Fellow K member.She feeling strange being Hibiki's Senpai,because of how Hibiki is older than Sayaka.
Hoshikawa Rei- Senpai. Fellow K member. Zoey officially met Rei when they both taught hand to hand combat to the 152nd Generation candidates along with Akano,but then they stopped talking until SC0126 when Rei was in AKBingo00! Ghost Special.
|Imaizumi Yui the 14th-Kouhai. Fellow K member. Zoey loves Zuumin's talent ( her vocals) she wonders if one day she'll be picked for soloist position. Zoey would ask her about Spainstar's culture,she finds it fascinating. At the end of her succession concert Sayaka was completely shocked by the prank Zuumin did to so many members who wanted to succeed Oshima Yuko. SHe loved it.
Tomone Kaoru- Kouhai.Fellow K member. Zoey would very much question Kaoru-chan's actions and words. She knows that Kaoru would be always wrong. She always ask herself " Why can't Tomomo accept it ? ". She wonders if she'll grow up to be someone different than she was yesterday. She finds Tomomo's "roast" to be sad.Aside from the words,she cares for her as a captain of the team and as a member of AKB0048.
Shimazaki Haruka the 11th-Kouhai.She is the Captain of Team B. Zoey adores Paruru when she's not in her rudeness stage persona. When Paruru is acting as her persona she can't help it,but look down on her. As they're both captains,both of them understand how hard working it is to be a captain.
Kodama Haruka the 8th'-Kouhai.She is the Co-Captain of Team B. Zoey is happy that Harrupi helped her in searching for a home in Akibastar.She finds her to be a great real estate agent and a great business owner. She feels like something good will happen to Harrupi in the future.
Matsui Jurina the 8th - Same Generation. She is often confused by her,mostly together with Watanabe Mayu type 5.Sayaka always has to repeat that she's not ZoZo,she's Sayaka. She really messed her emotions,but what would you expect.
Nakai Rika the 15th-Kouhai. Without saying it. She finds Rika a highly annoying,but she puts up with it.
Watanabe Mayu type 5 - Same Generation. Mayuyu really messed with Zoey's emotions and including Matsui Jurina,but what would you expect from the pranksters of 00.Zoey finds Mayuyu to be weird.They sometimes work on teasing Sasshi together; Sayaka through dance practice and Mayuyu through combat training just to make Sasshi's life a little bit harder,but Sayaka finds it to helping Sasshi in growing her skill.
Kasumi Yuuna - At first Zoey didn't like Yunna in the beginning(because she always gets roasted by her "lack" of intelligence) ,but now she's starting to warm up on her.Questions what Yunna will do in the future.
Ayana Elise-Kouhai. Zoey was very surprised that they have a former princess joining 00. She wonders what will outcome from her
[Kasumi Yuuna]]-Kouhai. She always gets roasted by her,she dislikes it, because they're not true
Iwata Karen the 15th - Kouhai. She finds Karen to be the young version of herself when she started out as a member, but now she has notice how Karen has change over the time cours.
Sato Amina the 6th/Kagawa Sayuri- Senpai. She wonders what she's up to. Wondering if she's okay or having a big success with her own discrete life.
Matsui Rena the 9th/Ashey Snow - Former member. First Member of the 151st Generation. Lifes have been weird without her bunny.Both of them have a have a hard time talking to each other due to their busy schedules. Sayaka is still waiting on what Ashley will do by her self in the entertainment world.
Parent
Yano Bright

- The mother of Zoey Bright(Akimoto Sayaka the 15th).Zoey's father left the family when she was 5 years old,Yano became the father and a mother to her daughter and son.She showed the light instead of the darkness to Zoey and told her to follow her dreams,and Zoey did as she joined AKB0048's 151st generation.She still worries for Akimoto Sayaka the 15th safety,but she knows that she's alright as she taught her daughter how to fight.Sayaka sees her as a role model . On August 25th, Zoey's mother officially married Jung-Woo. Sayaka was happy yet sad,because she had missed the wedding of her mother and her new called "Father".
Chiemi Bright

- Grandmother of Zoey Bright (Akimoto Sayaka the 15th) .Due to Zoey's mother taking two jobs in taking care of her kids, Chiemi decided to be the babysitter of her daughter's children. In the beginning,Chiemi didn't like the idea of Zoey auditioning for AKB0048, because she was afraid her granddaughter would get hurt,but she became aware that it was Zoey's desire to audition and become a member of 00.Now she sees that Zoey grow up into a tough person that she is today.
Fujimoto Jung Woo - The boyfriend of Yano Bright.Her mother and Jung woo started dating a year after Zoey became a member of 151st Generation and because of that,Zoey doesn't know about him,but heard great and nice stories about him.Zoey would like to meet him in the future . His favorite member is Akimoto Sayaka the 15th,which Zoey appreciates, BANANA ARMY! On August 25th, Jung Woo officially married Zoey's mother. Zoey is very happy that she could have someone who she deserves to be called "Father".
Sibling
Aki Bright

- The younger brother of Zoey Bright(Akimoto Sayaka the 15th) .Their relationship can be a little annoying and arguable at times ,but they really love eachother.Their father left when Aki was 4 years old. Aki sees his older sister as a role model,he wants to become stronger than his big sister.Current age is 15. Dreams of becoming Galaxies international martial arts winner and actor .Zoey heard the news that her younger brother joined " The Serpants" as he wanted to be like his big sister. Zoey still can't believe that her little brother is getting old. She wishes to spend time with hi,but she's busy with her idol activities and solo work.She wishes that he gets introduced to their half siblings
Lucia Espinoza- Half sibling. Lucia feels different about Zoey. Zoey tries to understand Lucia. Zoey promises that one day they'll have sister day to better understand Lucia and Lucia wants to understand Zoey. Zoey tries to guide her.She is her guardian.
Leonardo Espinoza

- Half sibling. Zoey could see a lot of herself in Leonardo. They have similar personality traits,but there somewhat different in a way. Lumiere wants to be a WOTA because they seem " cool". Zoey tells him to try harder. She is his guardian.
Kara Espinoza

- Half sibling. Kara really likes Zoey. She forgot all about their dad. People would say that she gets spoiled by Zoey,mainly because they were both poor so she wants her (Kara) to feel better. Zoey quite surprised when she found out Kara is obsessed with Unicorns,but she found somewhat cute. She wishes her to have a good future. She is her guardian.
Other
Katsuo Espinoza

- The biological father of Zoey.Left Zoey and Aki during an argument/fight with his ex-wife.Zoey nor Aki do not see him as their father.Katsuo feels regretful in leaving his family,but now he has another family to take care of.He wishes he could see his daughter one day,but Zoey doesn't wish to see him at all. After seeing him unexpected. Sayaka released all her hatred and anger towards her father.She never asked for him to be back.She never asked him to ever return in her life. She could never forgive her father for what he has done.Suddenly security escorted her father out of the area. Though the very next day they had a talk in private. Her father wished that her eldest daughter would be the one to take care of the three as he isn't able to support them and he couldn't bare to put them in a foster home with a stranger he doesn't trust. The next day he of course left with no trace what so ever. She still has the present her father left off. Though before he left, Zoey finally forgave him for what he done to the family,because holding grudges wouldn't solve anything even if it was from the past.
PETS
When she's around her pets . She forgets the world and her surroundings.
Timmy- American Bobtail Cat, Male.4 years old. Zoey got him in July 25th at an animal shelter. Timmy is an extremely friendly cat that always looks for attention, though he's very angry when he doesn't get attention. When Zoey calls him she doesn't say Timmy in a normal voice rather than a squealing voice, because she finds him so adorable. Timmy loves to spend time having fun and play time with Lucia,Rico, and Kara. He likes to pose when Zoey points her cell phone at him. Timmy appears to be a normal size house cat. It has white and Cinnamon fur with a striped tail. It also has triangular curved ears and paws.
Apollo-Samoyed Dog,Male.5 year old. Zoey got him in July 25th at an animal shelter. Apollo is very protective of Zoey. At times Apollo won't let her get out of bed,because he wants her to stay home. Apollo gets a little more attention then the other two.
Ayla -Pomeranian Dog,Female.5 months old. Zoey got her in July 27th at an animal shelter. At first when Zoey got her from the shelter,Ayla was super shy that is how won Zoey over because she thought she looked vulnerable. Once she (Ayla) got to Zoey's home. She became a crazy lively dog that's annoying but lovable.Kara is the most who plays and cuddles her. Ayla loves to jump, though she gets tired super quickly.
Aquastar
Kusuma Ayaka

- Ayaka was the mentor of Zoey.She majorly learned how to rap, dance, and be able to fight in self-defense in order to protect others . Ayaka was the reason for Zoey to change her path from brutal to peace.She loves Ayaka more than anything in the world (along with 00 of course) .Before Zoey had left to join 00,Ayaka left Aquastar to be in a girl group for World-G entertainment, Surprisingly Ayaka and Zoey debuted the same year.Ayaka is in a 5 member girl group called MG5(Monsta girls 5).They used to be in a gang(good) together called "The Serpents ",they protected downtown,Aquastar from corruption,or anything that would destroy peace for downtown.They still talk to each other from time to time
Liu Hidehito-Zoey called him " Hide" for short .Hideshito acted like the big brother for Zoey.They argued, they laughed; just how any other sibling would act towards each other.After Ayaka had left Aquastar, Hide continued mentoring Zoey until it was time for her to leave Aquastar.Hide is the new leader of " The serpents ".
Akibastar
Zoey is very much jealous for their beauty,but her friends don't care about appearance. She loves that about them
Tanaka Sakura- Good Friend. After they graduated from the academy,they continued hang around from time to time. They get silly at times when hanging out,but in a good way. She is very lucky to have a friend like her who understand more than her members who she lives with. Zoey always hangs out with her and Hyoyeon when ever she can,unless Sakura isn't busy with her college work.
Chung Hyoyeon- Good Friend. After they graduated from the academy,they continued hang around from time to time. They get silly at times when hanging out,but in a good way. She is very lucky to have a friend like her who understand more than her members who she lives with. Zoey always hangs out with her and Sakura when ever she can,unless Hyoyeon isn't busy with work. Hyoyeon is thinking about joining Ariea as she wants to be an artist.
Nakamura Tiffany- Good Friend. How they met was thanks to Sakura they really clicked quickly. Tiffany really didn't care that Zoey is part of AKB0048 the only thing she cares was how she acted and that's what Zoey likes. That someone doesn't care about her fame. Tiffany is really obsessed with the color pink having her shoes,purse, and items in pink. Friendly, bright, attention seeking, sensitive, clumsy, crowd-pleasing, follows her heart. Zoey gets along with Tiffany, when she's with the other girls she has more fun .What Zoey likes about her is how she does random impersonations. She mostly impersonates the members Zoey works with
Yamada Jessica- Zoey finds her quite interesting based on her personality. Jessica speaks more English at time because she comes from Applestar. Though Zoey understands her since she knows how to speak the English language. Jessica is Sweet natured, likes to joke, polite, blunt, shy, friendly.
Koreastar
Barahona Ryuu- Good Friends. They both met each other at the academy.Zoey was Ryuu's tour guide at the academy since he was new and din't know where to go.How they got along more was that they both know Ashley, after that they continued knowing each other. They both support each others work/job and understand how it is to be performers. She was deeply excited that Ryuu agreed on recording of Fighter. Zoey found it so empowering. She wishes that they could work more.
Yokoyama Sakura

-Friends. Sakura is a member of SG8. They were introduced by Ashley and Ryuu who was Ryuu's former teammate. After the concert the two girls had a talk about someone thinking that she is interested in 00. Zoey is always excited when she sees new members.
Jing Takahash- Friends. Jing is so quiet and doesn't speak alot when he's off stage or not on camera. Zoey is trying so hard for him to speak more that is her mission on Jing. She ships Ryuu with Jing. She swore that if Jing cheated on Ryuu or Ryuu did the same to Jing. She's going to hunt of them down and get the answers.
Applestar
CCZ- Good Friend and Idolized her . After meeting her in person. Zoey noticed that CCZ has a stage persona like she does. They bonded over things that Zoey didn't know about her. Ryuu introduced CCZ to Zoey,she respectfully fan girl over her idol. They keep in contact. They decided to have another collab. After meeting CCZ more and more. Zoey is able to control herself by taking deep breathes before speaking to the queen.
Tanaka George- Principal Founder and Chief Executive Officer of Areia Infinity Entertainment. After hearing about Areia. Zoey immediately switches from Morning Star Entertainment to Areia. Zoey felt welcomed when she first joined the company. George is very nice when he has to be,but becomes focused when is needed,Zoey admires that,because when work is needed you need to focus rather than goofing off. The company started becoming a more huge success after Zoey joined the company.
Julie Johnson- Head Dancer.Zoey really likes Julie,they work together and understand what Zoey ask for. Julie is more of the captain and in charge of keeping the dancers in line of. Along with the other dancers,Julie appeared in Zoey's MV,ILLUSION. Julie is officially part of Zoey's crew.
Music

Kono atarashii hi ni


Bonfire Love Story


Kibou no Chronicle


KISEKI


Kyuuseishu


Himitsu no Challenge


Reality


Infinity no Moyou


Castle of Glass


Rose no Hibi


Asphodel no Sekai


Kinou no Teki wa Mirai no Nakama


Masshiro na Mirai wo Irodzukeru


Kaetai Mirai


Sekiranun no Geijutsu
Setsuzoku no Chain wa sudeni Koko ni Aru
Gallery
Merchandise
These are the items that are sold at the AKB0048 shop and cafe that were designed by Zoey Bright herself.
Akimoto Sayaka the 15th official BANANA Neon Light sticks
BANANA Army jacket
BANANA Army T shirt
Akimoto Sayaka the 15th Chibi stickers
BANANA Wallet phone case w/Charm Bracelet
SZ Charm Necklace
Banana neck pillow
Akimoto Sayaka the 15th body pillow
Emoji Akimoto Sayaka the 15th down pillow
Real life
If Zoey Bright lived in our time zone/ year then she'd probably be in JKT48 Team KIII,but then in later years gets switched to NMB48/AKB48. She'd graduate in 2019.
Questions
" What would be the absolute worst name you could give your child? "
Zoey : To be honest. Every inanimate object is bad. Here's the story.My mom almost named me Cafeteria,before someone told her no,but a real name that would be worse is Bartholomew.
Zoey : Don't you EVERRRR compare cereal to soup around me !
" Do you have a cheat day ? If so what do you mostly eat ? "
Zoey : Pizza,Hamburgers,a lot of donuts,and Pie *smiles proudly*
"What was the last thing you lied ?"
Zoey : The last thing I lied would have to be.Takamina's cooking,I think ?
Zoey : My family,friends slash members and the Sayaka empire what I mean by that is, my fans and supporters.
" What is your most favorite and least favorite ? "
Zoey : My favorite word is proclamation. The way it sounds and the definition is great. The worst word by far is Riddled. *shivers*
" What did you do on your previous birthday ? "
Zoey : I celebrated my birthday on stage along with my fans. It was nice.
"What's your favorite time of day? Why?"
Zoey : The afternoon.The temperature is stable. It's good to run at that time.
"Would you rather win an Olympic medal, an Academy Award or the Nobel Peace prize?"
Zoey : I'd rather win the Olympic medal feeling proud of being great aestheticism
"What is your most favorite quote from history?"
Zoey: Oh this one is my most favorite of all.If a man has not discovered something that he will die for, he isn't fit to live.That is from Martin Luther King Jr.
Who are your top 5 favorite characters ?
Zoey: Ohhh this is so hard. Well my favorite would have to be Winnie the Pooh, Mable from gravity falls,Yellow Diamond from Steven Universe,Moon and Eclipsa from Star Vs the forces of evil. They're all re-runs shows from earth.
Do you live on your own ?
Zoey: I do now,but I'm not telling you
Did you ever make your own character based off a series
Zoey : I did based on Steven Universe.
What is your ringtone for your cellphone
Zoey : It's this old song from era 1. Fireflies from Owl city
Other Info ( online)
Formal name :Zoey Bright
Celebrity List Rank : A
Cup size : D
Waist size : 36
Birthplace : Downtown,Aquastar
Original Member
Akimoto Sayaka was born on July 26, 1988 in Chiba Prefecture, Japan.She joined as a member of the 2nd generation of AKB48. . She was a former captain of AKB48's Team K. She was originally featured in many of the group's singles. From 2011 to 2014 she was a member of AKB48's Sub-Unit DIVA along with Sae Miyazawa, Umeda Ayaka and Yuka Masuda. On April 7, 2013 she announced her graduation from the group and graduated on August 22, 2013. She was not ranked (Senbatsu Election) in her last years in AKB
Voice actor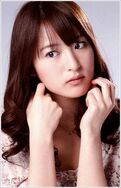 Mikako Komatsu( Born on November 11,1988) is a Japanese actress, voice actress and singer represented by the agency Hirata Office. Her first leading role, which was also her debut role as a voice actress, was in Heroman as the male protagonist Joey. As singer, she was signed to King Records (Starchild) then moved to Toy's Factory in 2016.She is an idol.
Trivia
Vocal range : Light lyric mezzo soprano

5 octaves and also known to sing as a Lyric Alto.

Charm Points : Nose,Body
Character song : Dream into a reality
Blood type : B
Penlight Colour: Banana Yellow
Former Roommate : Ashley Snow, Masuda Akari,Asahina Miru
Favorite Music(s)
Favorite:

Seasons : Spring,and Summer .
Drinks : Water,Apple juice, Watermelon lime slushie
Food :Japanese ramen
Colors :Black,white,golden,silver,and Orange

Social Medias

Twitter
Snapchat
Instagram
ZBS ( Youtube channel.Mostly shows dance covers,or her own dance moves. )
AkiSayaVeVo ( Music youtube channel )

Previous captain
Volleyball Team (school)
Soccer Team (school)
Loves

Her fans and people who bias her.
health spas/massages
exercise
food : She loves Banana bread.

Has been practicing Aikido since 5th grade, and has a 2nd Dan Black belt
She calls her fans blackbacks/ Banana Army🍌 ( young females and younger males gorillas )
Schools attended
Treasures her fan letters and gifts .
She has her drivers license.
Role models : Hyoyeon (era 1 Girls Gen),CCZ ,Ayaka,Jessi,Gong Gee(GG),Adore ,and D-dragon
Favorite artist : Cardi B(era 1),Ayaka Kusuma,and,CCZ, (era 3)
Succesion facts

She is very closely to Akimoto Sayaka (the original).In the new era,Zoey joined the 2nd generation(151st generation ) and as for original Akimoto Sayaka she joined AKB48 when 2nd generation held an audition.
Lilylight calls Zoey,the reincarnation of Akimoto Sayaka because of the generation and how Zoey never win anything in 00.
she was the first person of her generation to have a " promotion" ( succession fever ),and second person to succeed in the new era.
She hates acting cute ,instead loves being hardcore cool .
Dancing is her most passion .
She's AKB0048's Dancing Machine
She aspires to be a lyricist( who write for herself or for artist or groups(demos))
She loves having back up dancers
She absolutely hates it when someone else is on her bed
She absolutely loves it when AKB fans or her fans sing the words to the song . For her it means that they really care how hard the members and herself work on singles or her solo work .
It's rumored that the staff members makes Zoey/Sayaka wear cute things just for the fun of it
During a VLIVE. A questioned popped up from a fan. She told that she is half Spanish and half Indonesian,but she doesn't know any Spanish words
Her most precious item is a music box given to her by her biological father. The comes from a Disney movie " Sleeping beauty" song is " Once Upon a dream" given to her on her 19th birthday.
Zoey is now much of a hugger,but does it rarely.
She has about 4 siblings in total,she is the oldest.
She has a necklace (given to her by her mother) that she calls it "Lucky Necklace" ,because of how she pass the 151st Generation's second round audition and even be in Kami7 in 561st Single Senbatsu Sousenkyo as she ranked 5th.She even wore it to 574th Single Senbatsu Sousenkyo and was ranked 3rd.
Characters
Members
Successors

Current Successors

Takahashi Minami the 7th, Sashihara Rino the 11th, Shimazaki Haruka the 11th, Kodama Haruka the 8th, Eguchi Aimi the 4th, Hirate Yurina the 7th, Minegeshi Minami the 7th, Matsui Jurina the 8th, Watanabe Mayu Type 5, Imaizumi Yui the 14th, Maeda Atsuko the 20th

Graduates

Kagawa Sayuri (Sato Amina the 6th), Ashley Snow (Matsui Rena the 9th), Shino Hoshina (Maeda Atsuko the 19th), Shibuya Komari (Shinoda Mariko the 12th), Ooto Melody (Ikuta Erika the 11th), Takematsu Tomoka (Kuramochi Asuka the 13th), Zoey Bright (Akimoto Sayaka the 15th), Akagi Yahiru (Yokoyama Yui the 13.5th), Asami Mirai (Nakai Rika the 15th)
150th Generation

Current Members

Inoue Megumi, Takanashi Yukari, Hoshimiya Aoi, Hoshikawa Rei, Itano Tomorin, Hikami Yumeko, Ito Hotaru, Samuikaze Ran, Harune Diamond , Taiyamoto Akano

Promoted to Successors

Shibuya Komari, Kagawa Sayuri, Takayama Ai

Graduates

Yomohiro Haruko, Yomohiro Kirara, Suzuno Natsuki, Suzuno Sakura
154th Generation

Current Members

Itou Haruki, Tomone Kaoru

Promoted to Successors

Takaine Miyako, Kobayashi Griselda, Kasumi Yuuna

154.5th Generation

Chibana Miko, Aiwara Kurumi, Nagase Yuuri, Koizumi Ayaka, Shiratama Mayu, Natsuki Hotaru

Graduates

Ayana Elise, LaLa Rue, MoYoung Marian
155th Generation

Current Members

Amuro Yuhane, Arisugawa Mikoto, Chiba Miku, Kamiyama Mako, Kaname Reina, Kawano Namia, Kumotani Julie, Mizu Kaguya, Ogawa Norah, Sengawa Kagome, Tachibana Elisabeth, Tobina Riko, Utau Ruby, Yozora Yoko, Yukino Hajime, Yutaka Binatsu

Promoted to Successors

None

Graduates

Lee Hana, Yokoyama Asuna, Angelica Bianchi, Hoshizora Himawari, Chizu Snow, Mana Kotoko