竹松友和
Tomoka Takematsu
Takematsu Tomoka
General Information
Age
17
Birthday
February 25th
Home Planet
Neptuniastar
Appearance
Eye Colour
Green
Hair Colour
Sakura pink
Height
5'7
Familial information
Idol information
Successor Name
Kuramochi Asuka the 13th
Generation
153rd
Agency
Morning Star Entertainment
Oshimen
Itano Tomomi the 14th, Kashigawi Yuki the 8th
Other information
User
Chemmiechum
Hex Code

#92B752

Seiyuu
Kana Ueda
SA:NAO
"(Mochi mochi Mocchi, Kuramochi Asuka!!).Who is coming out of no where ? It's Mocchi !!!– Asuka's first introduction as successor
Tomoka Takematsu was a member of AKB0048's Team B .She received the Kuramochi Asuka and was the 13th girl to have given this name.She's a successful model
Currently, the nickname she is most commonly associated with is Mocchi (もっち),and surprisingly ;she was also known by Honoka as Mocchiyon
She graduated on March 12th, SC0127.
Appearance
Her hair color is Pink (reaches down to her back that is lushes hair),and her eye color is green.She wears earring during performances and days off ..Her lips are similar to Itano Tomomi.Asuka has very well good fashion sense and knows which outfit matches with what,when she sees a member with bad match clothing she just stares at you with disgust .Her clothing style is very Jpop and Chic.
Personality
Tomoka is most reserved of the current members ,She has a quiet spirit, but a happy personality ,She is a quiet and calm , she has a leader type Personality and always marches on she is a very polite being ( Due to how her parents and Family raised her ),she would sometimes act salty if thing aren't going right for her
Skills
Tomoka is good at Hand to Hand fighting and weapon fighting ( at the age of 10 ) ( Due to how her family raised her ) she learns how to play the Shamisen (at the age of 7 ) ,she trying to learn how to Speed dance at the moment since she sometimes trips herself and gets hurt dance to it like to dance normal ,she is good at teaching people if they don't understand it
History
TBA
Relationship
Public Appearances
Ethymology
Tomoka - name combines 智 (chi, tomo) meaning "intellect, reason, wisdom" with 花 (ka, ke, hana) meaning "flower".
Takematsu - Unkown
Quotes
" Hi my name is Tomoka,its very nice too meet you " - (Tomoka gretting people )
"Chu Chu Chu I'm Kuramochi Asuka the 13th member of Team A,it's very nice to meet you "– Asuka's first introduction as successor
" Honey,this girl has never come to play,she really has come to slay the runway " - Asuka's promo quotes for NTTM
" Fashion is Love,Fashion is life"
Appearances
Songs
Skills
Combat
Tomoka describes this skill her second best as she started her combat training at the age of 5.She feels superior from her family and most of the 00 members.
Modeling
Shamisen
Playing the Shamisen took ages for Tomoka to learn this instrument .Now,she's naturally good at playing this instrument.She considers this skill her number one.This skill was set to learn when she was at the age of 5 years old,her parents wanted her and her siblings to learn this kind of instrument.
Singing
She's somewhat great at this skill,though she's not the best like the other members who she admires.She continues to improve this skill to this day
Dancing
She's average.Not bad,not the best.
Neptuniastar
NeptuniaStar(ネプチュ'ー'ニアスター), this planet is in the Aquarius system (アクエリアスシステム,Mizugameza seikei ,this planet is entertainment banned free ,peaceful and quiet ,this planet is also very high tech and has a high defense security in all DES attacks or any upcoming war ,this planet is green friendly similar too how Eurostar is and how the planet also looks (Neptunia HyperDemsion ),there schools are always helpful and gives off great education ,they have many cooperation and industries to send things to(mostly video games and Books and technology ) ,only 12 past members of 00 and two current ones lived in this planet .There main capital is Terebigēmu(テレビゲーム ,Video game) ,in that capital is where a modern city ( similar to France combined as NewYork ) is located by more green friendly ,there are less crimes in Neptuniastar as there laws are strict in it ,AKB0048 only preformed there five times,basically this planet is like a Video game planet ,there animals are like earths , there are Flowers that only grow in the planet called DiamondCrystals ,Topazviolet ,Sapphirerose ,Plutianas ,Nepuneus and Romandas
Gallery
Original member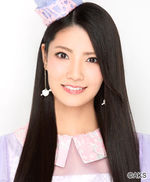 Asuka Kuramochi was born on September 11, 1989 in Kanagawa prefecture, Japan. She joined AKB48 in 2007 as a 4th generation member. She was the captain of AKB48's Team B until her graduation in August, 2015. She is also a member of French Kiss. She ranked in 2014's election #52.
Trivia
Her character song is Haru Saku (Spring Bloom )
Audition song : Gimme Gimme Luv
Favorite
She was a student council president at her school back in Neptuniastar
she plays the Shamisen .
The orginal Asuka is from the 4th Generation and Tomoka is in the 4th Generation in the new era
She lives in Neptuniastar
She rather doesn't each much
good at Hand to Hand fighting and weapon fighting
Her Family is well known strict
Has 6 brothers and 3 sisters
3/6 brothers are in WOTA
Is the 3rd person in her family to be in 00 ( Her , Aunt , Grandma )

In her room, she has the portraits of Kodama Haruka the 6th and Sato Amina the 5th

People always mistake the three as sister,but the truth is her grandma is 74 years old and her auntie is 43

her Seiyuu is Kana Ueda and her singing is NAO ( sample ) her voice actors are from Hyperdimension Neptunia
She is the only member in the new era of 00 to have the most siblings
First member of 153rd to succeed and second person in new era to succeed quickly
She came in 3rd place in NTTM .
Members
Successors

Current Successors

Takahashi Minami the 7th, Sashihara Rino the 11th, Shimazaki Haruka the 11th, Kodama Haruka the 8th, Eguchi Aimi the 4th, Hirate Yurina the 7th, Minegeshi Minami the 7th, Matsui Jurina the 8th, Watanabe Mayu Type 5, Imaizumi Yui the 14th, Maeda Atsuko the 20th

Graduates

Kagawa Sayuri (Sato Amina the 6th), Ashley Snow (Matsui Rena the 9th), Shino Hoshina (Maeda Atsuko the 19th), Shibuya Komari (Shinoda Mariko the 12th), Ooto Melody (Ikuta Erika the 11th), Takematsu Tomoka (Kuramochi Asuka the 13th), Zoey Bright (Akimoto Sayaka the 15th), Akagi Yahiru (Yokoyama Yui the 13.5th), Asami Mirai (Nakai Rika the 15th)
150th Generation

Current Members

Inoue Megumi, Takanashi Yukari, Hoshimiya Aoi, Hoshikawa Rei, Itano Tomorin, Hikami Yumeko, Ito Hotaru, Samuikaze Ran, Harune Diamond , Taiyamoto Akano

Promoted to Successors

Shibuya Komari, Kagawa Sayuri, Takayama Ai

Graduates

Yomohiro Haruko, Yomohiro Kirara, Suzuno Natsuki, Suzuno Sakura
154th Generation

Current Members

Itou Haruki, Tomone Kaoru

Promoted to Successors

Takaine Miyako, Kobayashi Griselda, Kasumi Yuuna

154.5th Generation

Chibana Miko, Aiwara Kurumi, Nagase Yuuri, Koizumi Ayaka, Shiratama Mayu, Natsuki Hotaru

Graduates

Ayana Elise, LaLa Rue, MoYoung Marian
155th Generation

Current Members

Amuro Yuhane, Arisugawa Mikoto, Chiba Miku, Kamiyama Mako, Kaname Reina, Kawano Namia, Kumotani Julie, Mizu Kaguya, Ogawa Norah, Sengawa Kagome, Tachibana Elisabeth, Tobina Riko, Utau Ruby, Yozora Yoko, Yukino Hajime, Yutaka Binatsu

Promoted to Successors

None

Graduates

Lee Hana, Yokoyama Asuna, Angelica Bianchi, Hoshizora Himawari, Chizu Snow, Mana Kotoko