SC0126 01. 12.
I'm excited! Today is finally the day! Hibiki, DiaWing, Tomoko and I have all been preparing a lot for our performance and we are really looking forward to showing it to you all! :D
We SisterWings the Unit of the Brightest Flowers will make sure to rise to the top!
 New reponse(s) by friends
 

@Shirayukihime: Ririka-san seems very keen and confident that you'll win; I can't wait to see you performing in a week! Good luck <3
@FlowerMakiri: I'm always confident! :D Thanks, I wish good luck to your unit as well~
@Yoyo-chan: Good luck Makiri-sama! I have no doubt you'll win this!
@Tomomo: Yes, that's it, cling hard to hope. You'll need it.
@FlowerMakiri: Same goes to you~
@FlowerMakiri: Thanks @Yoyo-chan! Good luck to you and Ella as well :D}
@Tomomo: Don't dare putting me in the same bag as you.
'@WhiteGhost: this will be fun. i call it now
@Nelle-Nelle: How on the Earth the Queen of Hearts' wrath is going to be fun ?
SC0126 23. 06.
The day of results is really close now and I'm excited for it even more than usually this year. I flower Makiri promise that I won't disappoint you! :D
New comments by friends
@Gorilla_Girl: Good!
@I♡Panda: We know you won't~ Good luck!
SC0126 11. 06
Everyone! Thank you so much for all the votes I got so far! The goal of me, Flower Makiri is of course much higher than 12th place but it's thanks to you all that I'm finally starting to climb to position that I deserve. Thank you all so much :D
And good luck to everyone else as well :)
New comments by friends
@AkaYui: I predict that Sasshi'll come by and tell you to win, but I am really happy that you've come so far, Ririka! :) Good luck!
@WhiteGhost: Yeah; as long as I'm above 17th, I'm happy. Feel free to switch with me.
@Gun-Girl: Good luck! ♥
@FlowerMakiri: Thank you all. :D I'll do my best. Good luck to all of you as well. :D Although in Sasshi's case I guess I should say bad luck as she doesn't want to win? xD
SC0126 08. 06.
Hello everyone!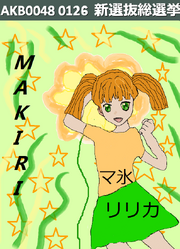 Your brightest flower Makiri is finally uploading her sousenkyou poster! :D I have a good feeling about this years' elections, I have a feeling that this year will be my lucky year.
(2) new comment(s) by friends
@Aicchi: It looks great, @FlowerMakiri!
@FlowerMakiri: Thank you. :D
SC0126 25. 04.
There is a line to which pranks can be acceptable and funny and they just crossed that line. I'm not amused at all...
(8) new comment(s) by friends
@Gorilla_girl: Where have you been for the last three years xD
@FlowerMakiri: Oh, I usually love their pranks. Like that "I'm succeeding Yuko" one? I loved it. But death is not something to joke about.
@BurningHotaru: This person sounds too serious to be Ririka... Are we sure this isn't someone else posting from her account?
@FlowerMakiri: Yes, Hotaru-san it's me. Even Makiri is allowed to be serious from time to time...
@BurningHotaru: I get you... I'm slightly angry at them too. But we'll probably laugh at this prank in 10 years.
@Yume31: Slightly angry? Weren't you the one who yelled loudly demanding explanation when she appeared on the stage alive?
@BurningHotaru: Doesn't that kind of reaction make sense? I'm surprised there weren't more members who did that...
@Gun-Girl: Pranks are fun!
@Gorilla_girl: I fear for all our lives....again.
@I♡Panda: "Oh, I usually love their pranks. Like that "I'm succeeding Yuko" one? I loved it." Tell that to Tomomo, @FlowerMakiri.
@Rainbow-Miya: Tehee~ Riight~ Pranks are awesome!
@FlowerMakiri: @Gun-Girl @Rainbow-Miya Yes pranks are fun. Until you cross the line which is something you two did!
@FlowerMakiri: @I♡Panda As much as I'd love to do that I think that might not be the smartest idea.
@WhiteGhost: I'm pretty sure that pranks aren't supposed to be smart.
@FlowerMakiri I'm pretty sure no one said that pranks are supposed to be smart...
@WhieGhost: I like that way of thinking lol
Community content is available under
CC-BY-SA
unless otherwise noted.