[Real life: 2018.06.23|SC0126.06.23]
What?
Some people have asked me of my current thoughts.
And it honestly was starting to get a bit annoying.
If I want to share my opinion,
I will.
But, I guess.
I don't really care much for the whole, good luck everyone thing.
what happens happens.
Doesn't matter what it is.
Some place value on themselves based in their rank.
Quite frankly.
They're idiots.
I know my value.
Anyone else's opinion doesn't really matter.
(1) comments by friends
@Takayo: You're right, no ones' opinions matters. Maybe we're just all lying to each other to forget about the truth; reality. But that's my opinion, so you don't have to agree or say anything about it~
[Real life: 2018.05.26|SC0126.05.26]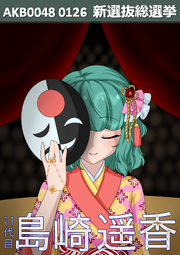 So.
Some members have been sharing their posters on their social media.
That's not really anything special. I suppose the quality is a bit better than on the official website, but other than that, I don't see the point in doing so.
That being said, I don't really see the point in not sharing them either.
So here's mine.
Some people have asked about the meaning behind it, and my answer is one anyone in the acting industry have heard at least once.
Find your own interpretation.
As far as I'm concerned, there is no "true" meaning.
Make of that what you want.
//Shimazaki Haruka.
(3) comments by friends
@WhiteGhost: This is obviously a B1 reference.
@Shirimasen: It looks beautiful, Paruru-senpai!
@KimuraMei: If that's what you believe, @WhiteGhost. Thank you, @Shirimasen.