Jurassic World: Dominion Dominates Fandom Wikis - The Loop
Play Sound
We are working on this page! Feel free to join and add your own sub plots.
This is a summary of the events that have been happening in our roleplay. For detailed dates, please visit our Roleplay Timeline.
---
SC0122: prestory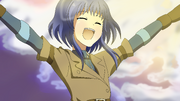 The plot of the roleplay starts with Motomiya Hikari planning to restart AKB0048 in its New Era. The first generation in the new era, the 150th Generation of AKB0048 Trainees, joins on November 18th SC0122. Due to the lack of activity, only three roleplay threads happen. AKB0048 starts out with no successors and no center nova, following the disappearance of Miorin the 9th.
[audition]
SC0123: a new day, a new era and a new 0048
[first live]
[Komari]
On [date], AKB0048 announced its second generation in the new era, the 151st Generation of AKB0048. The generation that'd consist of Miyabi Honoka, Asahina Miru, Zoey Bright, Kashita Miyagi, Ashley Snow and Masuda Akari was choosen through a combat selection.
After debuting with the hit song To Say, AKB0048 released their first single in the so-called "new era", Kono atarashii hi ni ("On this new day") with their only successor, Shinoda Mariko the 12th, as center and the nine most popular members as A-Side Selection, including the full 151st Generation and the two 150th Generation trainees, Hoshimiya Aoi and Takayama Ai. Following their first activities, including Handshake Events, their next single was announced, under the name Bonfire Love Story whose A-Side Selection was the same as the previous single, but with Takayama Ai as center.
On May 31st, 151st Generation member Zoey Bright became a successor, Akimoto Sayaka the 15th. Soon afterwards, 150th Generation member Kagawa Sayuri, became a successor too, Sato Amina the 6th. Both events happened during the AKB0048 Fan Election voting period. Various solo singles were also announced during this time, starting with 151st Generation member Kashita Miyagi's first single Toshi no Melody ("Melody of the year") and then by 150th Generation member Takayama Ai's first single Yanagi no Negai ("Wishes of the Willow"), but the members also had various other acitivies and off-times.
The election, won by 151st Generation trainee Masuda Akari, decided the A-Side Selection for Kibou no Chronicle ("Chronicles of Hope") which consisted of the previous A-Side Selection and Sato Amina the 6th. All members of AKB0048 also formed their first team, Team 00 whose first stage, 001 debuted a day after the election. 150th Generation member Hoshimiya Aoi's solo single Fairytale no Youna ("Like a fairytale") was released afterwards.
In July, the previous AKB0048 part-time worker Shino Hoshina became the sole member of the 151.5th Generation. The 152nd Generation audition was also announced. 11 girls were selected to join the group; Kimura Mei, Kashita Akane, Shiraki Chiyo, Aozora Kokone, Matsuto Nami, Honda Hibiki, Tsubasa Diana, Itano Tomoko, Makori Ririka and Tomoe Yuki. Kaido Mio was also selected to be part of the generation, but she graduated prior her debut. About a week after the girls joined, Kashita Akane became a successor, Yuihan the 13.5th.
The next single of AKB0048, KISEKI ("Miracle") included various new members into its A-Side Selection. Sato Amina the 6th, however, graduated from AKB0048. 152nd Generation member Tsubasa Diana's solo debut, Tsubasa wo Motsu ("I do have wings") was released after this single. KISEKI also included the theme songs of Majisuka Gakuen 00 ("Majisuka Academy 00"), a sequel to AKB48's Majisuka Gakuen series which as produced as a TV drama by AKB0048 with Shino Hoshina and Kimura Mei acting the main characters.
Their next single, Kyuuseishu ("Savivor") was first performed during AKB0048's Halloween Shuffle Concert which announced the upcoming Rock-Paper-Scissors tournament and a Team Shuffle. All existing members were divided into Team A and Team K with Takayama Ai (Team A) and Akimoto Sayaka the 15th (Team K) as respective captains, Shino Hoshina (Team A) and Masuda Akari (Team K) as co-captains and Kashita Miyagi (Team A) and Miyabi Honoka (Team K) as aces. Their new stages, A1 and K1 debuted in November while 001 ended. In the end of the year, Shino Hoshina's solo debut Hoshizora Kara Ochi ("Fallen from the Starry Sky") was released, and in December, she became a successor, Maeda Atsuko the 19th.
SC0124: climbing higher
The year started with the Rock-Paper-Scissors Tournament which was won by 150th Generation trainee Takayama Ai. Ai succeeded not too soon afterwards, becoming Takahashi Minami the 7th. Following various entertainment ban-related activities, their newest single, Himitsu no Challenge ("Secret Challenge") (decided by the recent Rock-Paper-Scissors Tournament) was released. In March, 151st Generation trainee Ashley Snow also became a successor, Matsui Rena the 9th.
In late April, the 153rd Generation auditions ended, with 8 girls passing; Asami Mirai, Ooto Melody, Murasaki Alisa, Ryuuzaki Miyoko, Takematsu Tomoka, Nakahara Monica, Masaki Amarie and Amaya Jia. Their debut song was included onto the group's next single, Reality which, for the first time, featured four members as a center and various new A-Side Selection members. Reality included the voting tickets for the next fan elections. During the election campain time, 153rd Generation member Takematsu Tomoka became a successor, Kuramochi Asuka the 13th. The following election was won by Miyabi Honoka who thus centred Infinity no Moyou ("The pattern of infinity"). Shortly before the election itself, Kashita Miyagi released her second solo single, Futari no Ashiato ("The footprints of us two"), and Akimoto Sayaka the 15th's first solo single, Snowflake was released a month later.
AKB0048 announced the "Cinderella Girl audition" in which three girls would be drawn by lottery to join AKB0048. Hatsune Hikari, Akiba Airi and Ikeda Itsuki won, although Itsuki had to wait for her debut due to an injury.
In September, 152nd Generation member Shiraki Chiyo became a successor, Sashihara Rino the 11th. Following various activities, in december, 152nd Generation member Kimura Mei became a successor too, Shimazaki Haruka the 11th. The year ended with the SC0124 AKB0048 Kouhaku Utagassen which teasured the Protocol Magi :ORIGIN drama, revealed the year's Lucky Ranking, announced AKB0048's first album in the new era, Setsuzoku no Chain wa sudeni Koko ni Aru ("The chain of connection is already here") and debuted its main song Orchestra which was performed by the members playing instruments in a band. 153rd Generation member Ooto Melody announced an hiatus.
SC0125: new steps ahead of us
In the late January of SC0125, 152nd Generation member Matsuto Nami became a successor, Kodama Haruka the 8th. Following private life and work, the next Rock-Paper-Scissors Tournament happened which was won by 152nd Generation member Asami Mirai who centred Castle of Glass. Shortly afterwards, Akimoto Sayaka the 15th released her second solo single, Love & Life.
Their newest album was released and in March, the members eventually visisted Kazakhstar where they helped 153rd Generation member Ooto Melody to resolve her family problems. Even though this was successful, Matsui Rena the 9th announced her graduation. Melody became a successor, Ikuta Erika the 11th, but the preparations for Rena's graduation started too. Her final single, Rose no Hibi ("The days of the rose") was released and her graduation concert, Matsui Rena the 9th Graduation Concert ~785 Days~, happened.
Shortly afterwards, Kashita Miyagi released her third solo single, Ashita wa Kitto Kuru ("Tomorrow surely comes") during the next election's voting period. The election was won by Takahashi Minami the 7th who centred Asphodel no Sekai ("the world of the Asphodel") as result.
Following the election campain, the 154th Generation was casted, resulting in seven girls being choosen; Kasumi Yuuna, Ayana Elise, Kobayashi Griselda, MoYoung Marian, Takaine Miyako, Itou Haruki and Tomone Kaoru. Unlike in previosu selections, the girls were attacked by "DES" (acted by WOTA) and had to escape from them. Each group of auditionees was aided by AKB0048 members working undercover; the 154th Generation girls were aided by Sashihara Rino the 11th and Ryuuzaki Miyoko. However, the girls were attacked by actual DES members which also revealed Ayana Elise as princess of Royalstar. The girls persisted either way and joined the group.
To celebrate the debut of the new girls, a series of AKBing00! episodes were released, focusing on the girls. During this time period, Hatsune Hikari released her first solo single, Sakura no Ki Kara ~ Ochite Kuru Ai ~ ("From the cherry blossom tree ~ love is falling down ~") and Maeda Atsuko the 19th with Takahashi Minami the 7th released a collaboration single, Ame no Warau ("laughter of the rain").
In October, 153rd Generation member Murasaki Alisa became a successor, Eguchi Aimi the 4th. Following this, Tomone Kaoru privately revealed that Yokoyama Yui the 13.5th was actually her dead-believed friend, Akagi Yahiru, revealing her identity by doing so. AKB0048 released their next single, Kinou no Teki wa Mirai no Nakama ("The past's enemies are future allies") which was centred by Ryuuzaki Miyoko of the 153rd Generation, a surprise.
In November, the families of Ryuuzaki Miyoko and Masuda Akari were taken into custody by the DES because of the two girls being from Aleenstar. Fortunately, the WOTA forces were able to save them, and the families were brought to Akibastar for their safety but to their dismay. While being able to clarify things with their families, they moved to Neutralstar for safety measures. 151st Generation member became a successor, Hirate Yurina the 7th, during this time.
In December, AKB0048 toured through various AEPS planets. The tour ended on Koreastar where the girls were able to meet their friend Ashley Snow again. During the final concert, Kashita Miyagi announced a brief hiatus to focus onto her first solo album, Kakkoii & Kawaii ("Cool & Cute") which would be released in the next year on her birthday. Her combat skills were also revealed. AKB0048 participled in the NHK Kouhaku on New Year's eve.
SC0126: blind into the unknown
In early January, the 154.5th Generation was founded through Chibana Miko and Aiwara Kurumi who had been unable to attend the 154th Generation casting due to DES intervening. The auditions were open for anyone who felt under that category and participled in the 154th Generation auditions and had been given allowance to be part of the second round.
AKB0048's next single, Masshiro na Mirai wo Irodzukeru ("Let me colour the snow white future") was released in January and focused on the 154th Generation with four of them being the QuadCenter of the single. AKB0048's next Rock-Paper-Scissors Tournament whose winner was 154th Generation member Kasumi Yuuna happened. Yuuna centred Kaetai Mirai ("The future I want to change") as result. During the event, another shuffle happened. All members of the 150th Generation the 154th Generation were shuffled into Team A, Team K and the newly formed Team B. Takahashi Minami the 7th (Team A), Akimoto Sayaka the 15th (Team K) and Shimazaki Haruka (Team B) were announced as captains. Maeda Atsuko the 19th (Team A), Hirate Yurina the 7th (Team K) and Kodama Haruka the 8th (Team B) were announced as Co-Captains. No aces were announced.
Hatsune Hikari's second solo single, Mada Tsuki ga Hikaritai ("The moon still wants to shine") was released in early February. 153rd Generation trainee Asami Mirai became a successor, Nakai Rika the 15th. A few days later, the first 154.5th Generation selection happened. Nishimura Karin and Murasaki Aoi became fullfledged trainees and Koizumi Ayaka and Nagase Yuuri joined AKB0048 as well.
Two dramas, Prototype and Koi no Kensaku ("Search for love") were announced and Koi no Kensaku started recording, featuring Kasumi Yuuna and Masuda Satoshi, the younger brother of Hirate Yurina the 7th as main actors alongside other AKB0048 members. Prototype starred Tomone Kaoru and included various AKB0048 members.
A1 and K1 ended. During the final A1 performance, Maeda Atsuko the 19th announced graduation. 154th Generation member Takaine Miyako became a successor, Minegeshi Minami the 7th. A2, K2 and B1 debuted. During March, Kashita Miyagi released her fourth solo single 1/2 and Akimoto Sayaka the 15th released her third solo single ILLUSION. During this busy month, the staff members of AKB0048 also had a private dinner meeting. Maeda Atsuko the 19th graduated in the end of March and Shiratama Mayu joined.
April started with Honoka's April Fools Pranks and the announcement of the upcoming single Sekiranun no Geijutsu ("The art of cumulonimbus") and Natsuki Hotaru joining AKB0048. Tomone Kaoru of the 154th Generation released her solo single 「LET IT BURN」 in April as well. AKB0048 performed an guerilla life on Baltistar on April 5th. On their way back home, the group was ambushed by the DES forces. At first, the battle seemed to have gone perfectly fine, until the girlls found out that during the battle, a single DES soldier had managed to enter the Flying Get - and dangerously hurt 151st Generation member Kashita Miyagi. The Flying Get rushed back to Akibastar, but Miyagi flatlined on April 20th as result of the injuries. 151st Generation Miyabi Honoka, who, upon her bets friend's injury, retreated for a while, was announced to become a successor a few days later during which, as a prank towards everyone but WMiya and Hikari-san, Miyagi suddenly appeared too, announcing that aside of Honoka who succeeded Matsui Jurina the 8th, she would become Watanabe Mayu Type 5.
On May 6th, Suzuno Sakura and Suzuno Natsuki graduated from AKB0048. Shinoda Mariko the 12th graduated from 0048 on May 18th. Harune Diamond went on an indefinite hiatus due to health problems. Hatsune Hikari and Watanabe Mayu Type 5 announced that they would release new solo singles which would stand in a 'battle' for the better sales; Brave New World by Mayuyu and Kimi wo Mamoru Satellite ("the satellite protecting you"), with Mayuyu winning. Following a 0048 concert on Saharastar on June 3rd and Sayaka meeting her father again, the 0048 elections finally were hold on June 24th. Afterwards, the 155th Generation draft begun on July 4th, and the election single, Kagami no Paladin ("Paladin of the Mirror") was released on Auguast 14th.