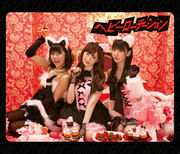 Namida no SeeSaw Game
(涙のシーソーゲーム,
See-saw game of tears
) is part of AKB48's 17th single
Heavy Rotation
. The song was sung in episode in the anime by the successors and is Ota Aika's Succession Song. The song was sung by the undergirls, who were selected throught the 2nd Senbatsu Sousenkyo with Ota Aika as center.
Namida no SHIISOO GEEMU wa
Sou kitto watashi no make kamo ne
Ima waratteru tsumori demo
Wabuta jin to atsuku naru
Namida no SHIISOO GEEMU wa
Sou saigo no kake datta no ni
Kono hoho ni nagareta mono wa
Tada no tsuyogari
Donna kanashii toki mo
Watashi no soba de
Sobietatsu ki no you ni
Sasaete kureta
Tsuyoi natsu no hizashi mo
Hageshii ame mo
Eda ga ryoute wo hiroge
Mamotte kureta
Chigau michi (chigau michi)
Susumu koto (susumu koto)
Kokoro no junbi shiteta kedo
Anata ni attara
SAYONARA
Ienakatta
Watashi no itoshisa no hou ga
Sou sukoshi omokatta mitai ne
Mada nokotteru tomadoi ni
Mawari no keshiki ga nijimu
Watashi no itoshisa no hou ga
Sou saisho wa karukatta no ni
Kono mune ni sasatteta no wa
Kioku no kakera
Yagate kisetsu wa meguri
Happa mo ochite
Kaze ni furuete ite mo
Wasure wa shinai
Dekiru nara (dekiru nara)
Watashi kara (watashi kara)
Senaka wo muketakatta kedo
Anata wo miokuri
Yukkuri
Arukidasu wa
Namida no SHIISOO GEEMU wa
Sou kitto watashi no make kamo ne
Ima waratteru tsumori demo
Mabuta jin to atsuku naru
Namida no SHIISOO GEEMU wa
Sou saigo no kake datta no ni
Kono hoho ni nagareta mono wa
Tada no tsuyogari
Aa ai nante
Aa itsu datte
Dochira kara ga
Sono BARANSU
Waruku suru yo
Watashi no itoshisa no hou ga
Sou sukoshi omokatta mitai ne
Mada nokotteru tomadoi ni
Mawari no keshiki ga nijimu
Watashi no itoshisa no hou ga
Sou saisho wa karukatta no ni
Kono mune ni sasatteta no wa
Kioku no kakera
In this see-saw game of tears
I might be losing
Now I intend to be smiling,
But my eyelids are painfully hot
This see-saw game of tears
Was my last bet
But what flooded my cheeks
Was just a bluff
However sad I was
You were always next to me
And like a tree towering over me
You supported me
You protected me
From the strong Summer sun
And from the stormy rain
Expanding your branches for me
My heart was prepared
To take a different road from yours
But when I met you
I just couldn't say goodbye
Looks like my affection
Was a little heavier than yours
This confusion I'm still feeling
Makes me see everything around me blurred
My affection
Was lighter in the beginning,
But what is now piercing my heart
Is a piece of a memory
And then the seasons passed
And your leaves fell
Even if I'm shaking in the wind,
I won't forget you
If it was possible, I'd wanted to
Be the one to turn my back on you
But I see you walk away
And now, slowly,
I start walking
In this see-saw game of tears
I might be losing
Now I intend to be smiling,
But my eyelids are painfully hot
This see-saw game of tears
Was my last bet
But what flooded my cheeks
Was just a bluff
Ah, love
Ah, always
One of the two
Makes it lose its balance
Looks like my affection
Was a little heavier than yours
This confusion I'm still feeling
Makes me see everything around me blurred
My affection
Was lighter in the beginning,
But what is now piercing my heart
Is a piece of a memory
涙のシーソーゲームは
そう きっと 私の負けかもね
今 笑ってるつもりでも
瞼 じんと熱くなる
涙のシーソーゲームは
そう 最後の賭けだったのに
この頬に流れたものは
ただの強がり
どんな悲しい時も
私のそばで
そびえ立つ木のように
支えてくれた
強い夏の陽射しも
激しい雨も
枝が両手を広げ
守ってくれた
違う道
進むこと
心の準備してたけど
あなたに会ったら
サヨナラ
言えなかった
私の愛しさの方が
そう 少し重かったみたいね
まだ 残ってる戸惑いに
まわりの景色が滲む
私の愛しさの方が
そう 最初は軽かったのに
この胸に刺さってたのは
記憶の破片(かけら)
やがて 季節は巡り
葉っぱも落ちて
風に震えていても
忘れはしない
できるなら
私から
背中を向けたかったけど
あなたを見送り
ゆっくり
歩き出すわ
涙のシーソーゲームは
そう きっと 私の負けかもね
今 笑ってるつもりでも
瞼 じんと熱くなる
涙のシーソーゲームは
そう 最後の賭けだったのに
この頬に流れたものは
ただの強がり
ああ 愛なんて
ああ いつだって
どちらからか
そのバランス
悪くするよ
私の愛しさの方が
そう 少し重かったみたいね
まだ 残ってる戸惑いに
まわりの景色が滲む
私の愛しさの方が
そう 最初は軽かったのに
この胸に刺さってたのは
記憶の破片